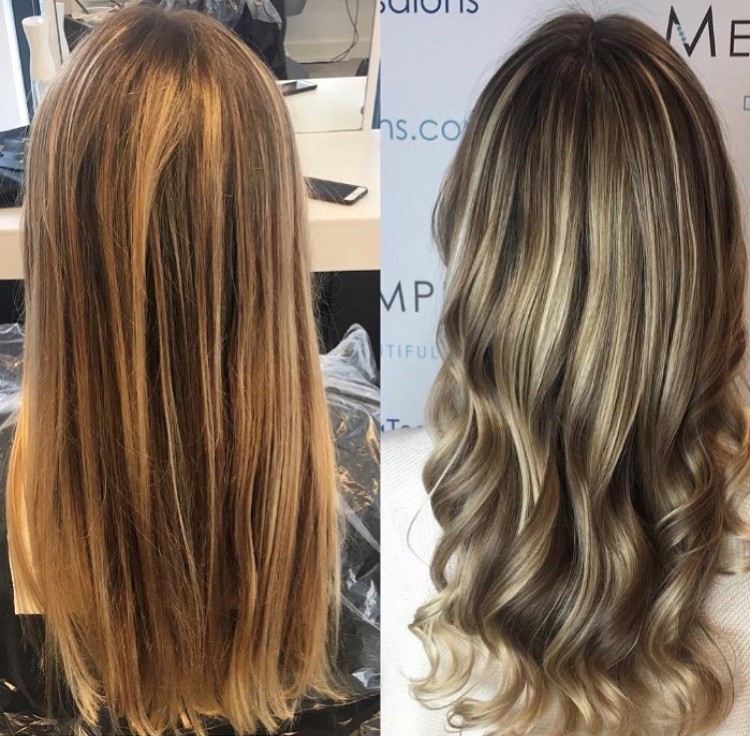 How A Balayage Can Completely Transform Your Hair
20 January 2020
Discover the different ways a balayage can transform your appearance!
A balayage is a hair colour technique, that relies on gently sweeping colour onto the hair to create natural soft tones.  It's been gaining popularity in recent years and we have so many clients rave about how a balayage, created by the team at the Manchester Balyage Centre at Melissa Timperley Salons, has completely transformed their look!
Here are 6 examples of how a balayage can easily transform your hair!
1. A balayage is unique to you.
No two balayages are ever the same! This is because a balayage expert will take into account factors like your current hair colour, the colours you want to introduce, and also your hair texture, hair length and skin tone.
2. It helps to soften or accentuate different features in your face

Adding a combination of light and dark shades can be used to soften facial features such as strong angles in the jaw line, inject warmth to pale complexions, or even emphasise other features like cheekbones.
3. A balayage takes your hair cut from wonderful to 'wow'
By softly adding different shades and tones of colour, you can take an already good haircut and transform it into a great hair look.
4. It creates a more natural look
A good approach to balayage is all about carefully placing and blending colour. A balayage specialist will be looking to create the right contrast of light and dark tones, to create a natural looking and lived-in style for you. This will create a final look that blends dark and light hues seamlessly, while avoiding harsh lines or distinct blocks of colour.
5. A balayage lets you experiment with colour
If you've had your heart set on certain hair colours but are a little nervous to make the move, the gentle sweeps of the balayage technique are great for easily introducing and experimenting with new colours and tones. It also lets you add colours from a broad palette – for example if you want to introduce certain colours into your wardrobe or make the most of an outfit!
6. A balayage can add thickness 
A well created balayage can make thin hair look thicker. As well as creating the illusion of thick hair looking lighter. This is all because a balayage plays with light and dark tones, creating different visual effects.
Why not try a balayage transformation for yourself?
If you would like to try balayage yourself, contact our specialists at the Manchester Balayage Centre for an initial consultation. We'll be able to discuss colour options that'll compliment your length and features, to ensure you that you will love your final balayage look as much as we'll love creating it!
Contact us on tel 0161 834 5945,  email us at appointments@melissa-salons.com or book online at www.melissa-salons.com
Share this article
---