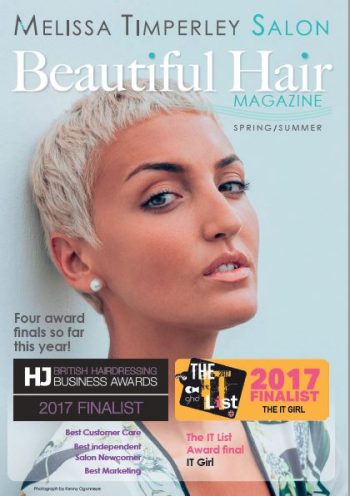 Catch the latest issue of our new Melissa Salons Salon Magazine
16 August 2017
If you've visited the Manchester Salon recently you've probably seen our latest arrival!  We're delighted to announce that clients can now pick up and read the first issue of our publication in our Manchester Salon. The first publication of the Melissa Salons Salon Magazine – Beautiful Hair Magazine, is now available.
It's packed with lots of helpful tips and inspirational styles selected by our team in the Manchester Salon. The Magazine aims to give you gorgeous looks this summer.
Commenting on the launch of the magazine, Melissa said, "This magazine has been designed to entertain, educate, inspire and inform. Melissa Salon loves the art and science behind creating beautiful hairstyles. So we decided that we want to share our ideas with our clients in an easy to digest and 'flick through' way.  Our magazine is just another example of the Manchester Salons Team's commitment to delivering a fabulous experience for clients."
This Month's Edition
The latest issue covers topics such as:
It also shares the latest news from the Manchester Salon, such as the various Awards the team are finalists in and the work we've been doing with the Little Princess Trust.
Melissa adds, "The members of the Manchester Salon will happily discuss the topics we've covered in the first issue. And also do please give us your feedback, comments and suggestions. Going forward we want our client's opinions to feature in the Melissa Salons Salon magazine. We're already planning the Autumn edition!"
Contact Us
The Magazine is available at Melissa Salons on Tib Street in Manchester.  You can also contact the team for an electronic copy.
Share this article
---