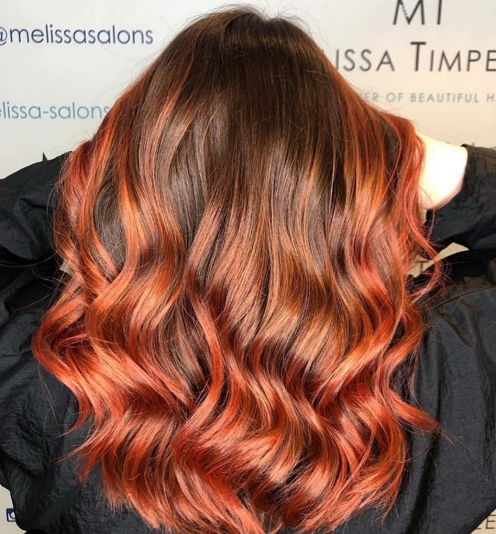 Why Balayage Hair Is So Popular
13 January 2020
Balayage is a trend that's set to stay
At The Manchester Balayage Centre at Melissa Timperley Salons we get so many requests for Balayage style hair. So what is Balayage? Balayage is a gorgeous and effortlessly stunning hair colour trend that celebrity magazines just can't get enough of! And it's easy to understand why – the hand-painted graduated highlights in the Balayage technique give such a natural looking tonal hair colour.
Add softer waves of colour
Balayage hair also comes with the benefit of a much easier maintenance regime.  The softer sweeps of colour tend to bring less noticeable re-growth than traditional highlights – and the patches of light and shade at the heart of a good balayage also let you add multiple colours and hues.
A bonus is that hand 'sweeping' of colour in the balayage technique means you don't need all the faff of foils when you're in the Salon.  You also gain much softer waves of colour, rather than the more pronounced stripes of traditional highlights – especially if they are not done by highly trained stylists.
Balayage is diverse 
The diverse appeal of Balayage certainly lets mix up your style depending on the seasons. Channel waves of blondes for sun-kissed looks in the Spring and Summer, and deeper tones and russets for the Autumn and Winter.
Unique to you
One of the reasons why celebrities love balayage so much, is that every balayage is just so different! The hand sweeping of colour needed in the technique needs to factor in your hair colour, texture, and length. A balayage expert, such as the team at The Manchester Balayage Centre at Melissa Timperley Salons, will also consider your facial features and skin tone. This means you come away with a style that's one of a kind – and completely unique to you!
A wide colour palette to choose from
When it comes to balayage colour choices, there's a kaleidoscope to choose from.  Don't just assume balayage is about adding blonde tones! At our Manchester Balayage Centre, we've created stunning looks for clients looking to incorporate vibrant reds, pinks, blacks and deeper and darker shades…. and that's just to name but a few!
All hair types welcome
Another reason why balayage is so popular is that it works brilliantly with all hair types and lengths – straight, curly, wavy, short, long, thick and thin.  With thinning hair, the choice of colours that come with a balayage style can be a great way to add depth to your hair to make it look visually thicker.
Why not try it out a balayage for yourself?
So, you see just why everyone's bowled over by balayage!  It's a great hair technique that creates a subtle but absolutely gorgeous hairstyle. And one that will get you noticed and heads turning…for all the right reasons.
If you would like to try a balayage style contact our specialists at the Manchester Balayage Centre at Melissa Timperley Salons for an initial consultation.  We can discuss your colour preferences and find styles and tones to create a simply stunning look for you.
Contact us on tel 0161 834 5945 or email us at appointments@melissa-salons.com or book online at www.melissa-salons.com
Share this article
---