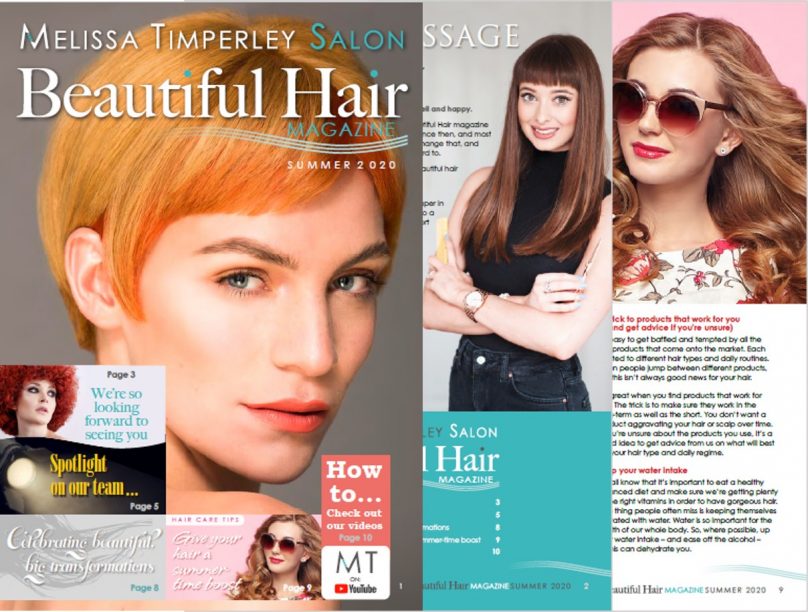 Our Beautiful Hair e-mag is now out
1 July 2020
We are delighted to share with you an e-edition of our Beautiful Hair magazine.
We were just about to print the latest issue of our popular in-salon magazine when we went into lockdown. Obviously a lot has happened to us all since then, and most of what we are hearing seems to be bad news. The Melissa Timperley Salons team want to change that and instead focus on positivity, the future and all the good things to look forward to.
One of the ways we can help is to get you back to having beautiful hair you will love, created by us in a super-hygienic and safe salon environment.
Due to the current regulations, we can't have unnecessary paper in the salon so, undaunted, we've transformed the magazine into a version you can read online. We've actually created three short and easy to read e-magazines, and this is the first.
Here's what to expect in this issue
The aim of the e-magazine is to give you a boost, get you excited about your visit to us, give you some fresh ideas and also to share some of our news with you.
All the latest salon news
A spotlight on our team – including introductions to our new members
Celebrating beautiful, big transformations – ideas and inspiration for those looking to make a big change
Hair care tips – how to give your hair a summer-time boost
More 'how tos' – gorgeous styles to try using our popular videos
Let us know what you think
Do let us know what you think – drop us an email at appointments@melissa-salons.com or talk to any of the team when you are with us. Book you next appointment with us.
We look forward to seeing you in the salon soon, and  hearing all your news.
The Melissa Timperley Salons Team
Share this article
---