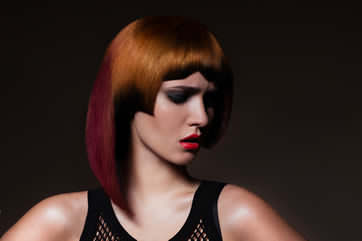 Turn heads with our 2018 hairstyle predictions
8 January 2018
A new year has arrived and with it speculation on what the must-have hairstyles of 2018 will be.  Looking at what's coming in from the major fashion shows and catwalks, there seems to be a trend towards embracing individuality, in texture, colour and shape.
Of course this is fabulous for the Melissa Timperley Salons Team, as it echoes our whole ethos and what we specialise in. So for the fashionistas who want to keep ahead of the very latest trends, here are our predictions for the must-have 2018 hairstyles.
Choppy fringes
This is certainly a style which shouts out texture. We expect to see a lot more demand for the choppy fringe. It makes a bold but fun statement and works well whatever the weather.  Combined with different colour hues (striking or subtle), it gives a really impressive look.
The bowl cut
We so love the bowl cut. It was a big hit in 2017 and its popularity doesn't show any signs of waning.  It's a really versatile cut which can be styled to all hair types.  It's also a low-maintenance style and suits all ages.
Loose and bouncy curls
In contrast to short precision cuts, we also predict a rise in popularity for the long and luxurious.  There's a growing interest in vibrant, longer and bouncy hairstyles.  We've seen it in evidence in the demand for long loose and bouncy curls that give a natural and simply sumptuous look. The good news is that loose and bouncy curls work well in a whole host of colour combinations.
Gloss and shine hair
Healthy looking hair will also be a big hit this year.  Many of our clients are already taking a real interest in the quality of their hair, not just its shape.  In recent weeks we've created some stunning transformations to bring greater gloss and shine to our clients' styles. Part of our consultation always includes advice on how to maintain that glossy and sumptuous look when you leave the salon.  We also recommend Innoluxe and UNITE products as time after time they repair damaged hair and create an amazing vibrant look, full of vitality and shine.
Accessorising and embellishing
Accessories will remain firmly on many must-have lists this year. The best accessory for your hair for 2018 will be earrings, and the bigger the better.  A short hairstyle is of course perfect for this, but if you have shoulder length or long hair, the trend will be to push it behind one ear to show your earring.
Can we help?
If you fancy a new look for the New Year and want to make the most of the latest trends, why not book in for a consultation at the Salon.  Our team of talented and award-winning stylists will talk through what styles will work best with your hair type, facial features and lifestyle and create the glamourous 'new you' for 2018.
Share this article
---