Our salon hygiene and safety procedures
We want you to love your time with us…and fall back in love with your hair!
Here are the procedures we've put in place to make sure that your next visit to us is a happy, comfortable, enjoyable and, above all, safe one.
We can assure you that we've thought about every detail, so that we can make your visit as comfortable and special as possible. We've even been singled out by the Government and our industry body as a 'best practice' case study for hairdressers in the UK.
We offer:
A single stylist throughout (to minimise unnecessary contact)
Touch-free sanitisers and soap dispensers (on all floors and in the restrooms)
Styling stations that comply with social distance rules (we have plenty of room here).
A fully sanitised and disinfected styling station, surrounding area and backwash (we have procedures to be super hygienic, for each individual client, all the time).
A single-use, disposable full-length gown – and a disposable mask if you would like one.
All staff will wear approved gloves, protective garments and visors, (so that both you, and us, are as safe as possible). We also have masks that can be worn on request.
Perspex screens at reception, and procedures for disinfection of 'high touch areas' on a constant basis
All our team will be temperature tested every morning
Our key 'house rules' for clients
Use our hand sanitiser machine at the entrance and on each of the floors.
No waiting in reception (you and anyone accompanying you may need to wait outside) until your appointment. The best thing to do is arrive exactly on time.
On arrival answer our simple personal health questions so we can play our part in tracking
Put your own coat and belongings on the coat stand, separated from others
If you would like to, bring your own mask, or use one of our disposable ones
Use a credit or debit card to pay if at all possible
Our Salon 'House Rules' Infographic as a reminder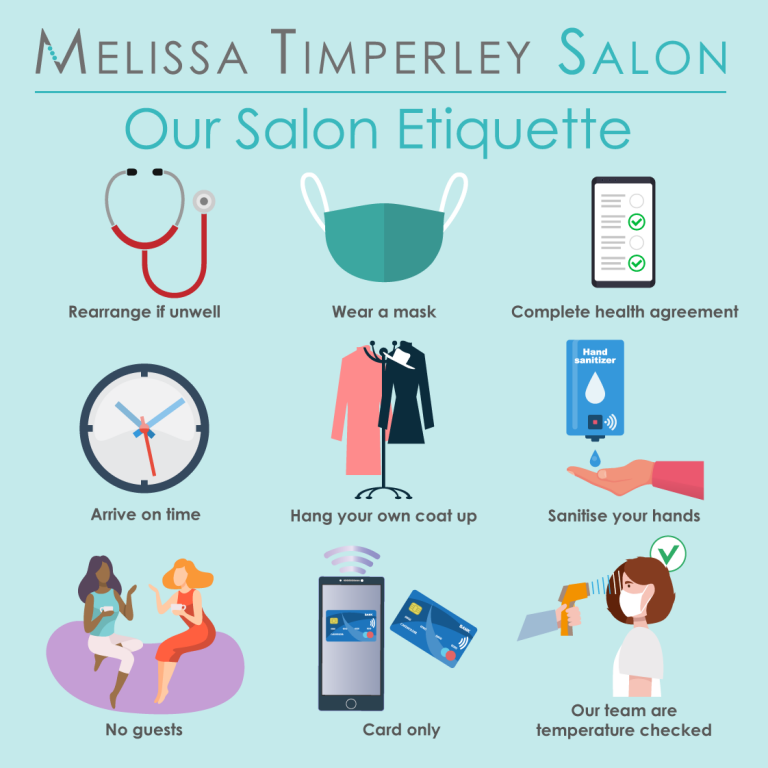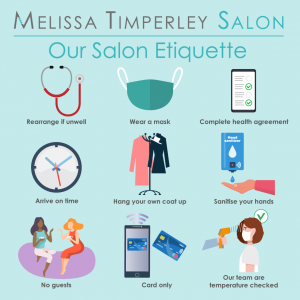 Covering our additional costs
As you will imagine, our costs have gone up significantly since the introduction of stringent hygiene measures eg restructuring of the salon for social distancing, introduction of protective equipment for our team, the need for single-use gowns and visors, sanitizers, and so on. Unfortunately, to survive as a business we will need to increase (on a temporary basis) our prices by £7 to cover these additional costs. Our main priority is to make you (and us) as safe and comfortable as possible and we sincerely apologise for this necessary increase, but hope you understand.